Oh. It's you. We were wanred that some meddlers might actually make it this far up the river. Well, we've only got one report, and I don't think you want to see it.

Feeding the paranoia:
The Big Lie, by Anthony DellaFlora

Yeah, yeah, we got a note from the Big Q. Look over on the table.

Nina arrived with Dan, Dave and Lenexa an hour later. Aaron updated them on the status of their friends--dead and alive. They were all sitting on the hardwood floors of the living room, as Aaron believed it to be the best place for a gathering. Nina grumbled, arguing the west side living room was where all the evil was, but listened nevertheless.

"I called Zep, but he wasn't there. I left a message to come by when he gets his head out of his butt," Lisa said.

"Hey, you wanna bet on who dies next?" Lenexa asked to the group. "You mean like an office pool?"

"Yeah, like March Madness," said Aaron.

"Everyone pitch ten bucks in and I'll set up a quick grid," Nina said, pulling out a yellow pad and drawing lines.

"I want Dave," said Dan.

"I'm taking Willy," countered Dave. Groans arose from the walls when Dave said this. "I think I got a winner," Dave added.

"I'm taking Aaron," Lisa said.

"No way they're killing an editor that soon," said Nina who put down Dan.

"It would be stupid to bet on myself, wouldn't it?" Lenexa asked.

"You'll never collect," said Dan.

"Then I guess I'll take Chris. He almost died from the bong anyway." Everyone else signed into their boxes.

"Hey, can I bring my Post-Tonal theory video game in?" Dave asked. "I've got it out in my truck."

Aaron nodded and began the meeting.

"Okay, we've got the betting out of the way," Aaron began. "So, let's get down to business. Willy is in the back dismantling the witch. Mattman is out buying new paint and beer for later. Are there any suggestions to disarm the evil that seems to be prevalent in this house?"

"Um, why did you ask us to come here if people are dying?" Dan asked.

"I'm sure might makes right still works against the dead. If we get everyone here, we can drive this evil right out of our house," Aaron said. "Besides, the house is free. There's no way I'm abandoning a free house." Everyone mumbled in agreement with Aaron's last statement. Free houses were hard to come by in the world, and the staff of Lies certainly weren't going to turn down such good fortune.

"There's got to be a way to get rid of this evil," Aaron said, looking at the walls of the house for some kind of sign.

"Ouiji board?" Lisa suggested.

"Too cliche," responded Dan, who had found a comfortable place to lie down on the floor.

"Maybe we can sacrifice something--or someone," Lenexa said.

"Um, we've already lost two people," Aaron said. "I think that's enough of a sacrifice."

Lenexa looked sheepishly into the corner.

"I say we just pretend the evil doesn't exist," Dan said from his spot on the floor.

Everyone stared at Dan silently for a few seconds. Aaron broke the silence by hissing sarcastically, "Yeah, that'll work."

"Maybe if we said some Bible verses, we could drive the evil away with our faith," Nina chirped.

"Who has a Bible?" Aaron asked.

"Don't you have one, Aaron?" Lisa asked with a pained look.

"Oh yeah." Aaron went over to his boxes of books which had yet to be put away. The Evil had kept him from unpacking completely.

"We're using the Bible to fight evil? Isn't that a little bit gay?" Dan asked.

"No," Nina and Dave said at the same time.

"We're in, what could be the epic struggle between good and evil, and we're looking for books," Lisa said, not amused.

"Good and evil?" Dan said, surprised. "Jesus!"

"Hey Dave," Lenexa said as Aaron rummaged through the boxes of books. "Do you still pray to God?"

"You bet your ass I pray to God," Dave said emphatically. "I want to go to Heaven, y'know."

"Here it is." Aaron said, holding up a large book. "Are there any verses you guys are fond of?"

Everyone shrugged their shoulders.

"Oh come on. This thing is full of good lines, can't anyone think of anything?"

"What about that John 3:16 one?" Dan asked.

Aaron flipped the pages. "For God so loved the world that he have his only Son, so that everyone who believes in him may not perish but have eternal life."

"Lot of good that will do us." Dan said with a sigh. "I'm a little more concerned with the evil trying to take my earthly life. Pick another one."

"Any other ideas?" Aaron asked, ever the diplomat.

"Just pick one." Lisa said. "I don't think it matters."

Aaron randomly flipped through the pages, stuck his finger down on a verse, and began to read. "The descendants of Asher by their families: of Imnah, the clan of Imnites; of Ishvi, the clan of Ishvites; of Beriah, the clan of the Berites--"

"Pick another one," Lisa said, cutting him off.

Aaron scowled at Lisa and flipped through again. "Then I desired to know the fourth beast, which was different from all the rest, exceedingly terrifying, with its teeth of iron and claws of bronze--"

A rumble began from somewhere outside the room and became increasingly louder with each second. The closer the sound came, the more it sounded like a growl. All eyes stared at the door by the far wall as the noise centralized itself there.

"What was that verse from?" Dave asked.

Aaron looked at the pages. "Daniel."

"Oh shit."

The door burst open and four huge, mangy beasts bared their teeth, dripping acid slobber onto the floor. The staff ran behind their Damn Nice Editor hoping they somehow would be saved.

"What are they?" Nina screamed.

"Hounds of Hell," Aaron yelled back. "At least I think that's what they are."

The beasts saw Aaron with the Bible and slowly began to circle him.

"Looks like I win the pool," Lisa said, smiling as she backed away from Aaron.

"What? Did you sleep with the writer?" Lenexa asked, following Lisa out of the room.

"Hey Dan, you gonna pretend this isn't real?" Lisa taunted, as Dan scrambled from the floor and into the kitchen. Everyone else realized the agitated dogs were focusing on the Damn Nice Editor and deserted the front room.

Aaron opened the Bible again--this time to one of his favorite passages--and began to read, "How graceful are your feet in sandals, O queenly maiden! Your rounded thighs are like jewels, the work of a master hand. Your navel is a rounded bowl that never lacks mixed wine."

A beast ripped into Aaron's right leg tearing it off with one bite. Another beast tore at his left arm leaving it in shreds, but Aaron continued to read.

"Your belly is a heap of wheat, encircled with lilies. Your breasts are like two fawns, twins of a gazelle."

The two largest dogs took their turns biting and clawing at the editor, who's body was rapidly becoming disassembled. They shredded Aaron's lower body into strands of dangling flesh.

As his intestines begin to fall on the ground like ripe sausages, Aaron skipped a few verses and continued reading: "Your head crowns you like Caramel, and your flowing locks are purple; a king is held captive in the tresses."

With that, the largest beast swiped at Aaron's face, tearing his mouth, nose and cheeks away from his head. The young editor fell, silent except for the bubbling of blood from the back of his throat. Each beast took turns splitting and severing the body in an unholy manor. When the hounds sniffed he was dead, they bolted out the door from whence they came--and the Damn Nice Editor was no more.

Mattman, who heard rumbling, but had not seen anything out of the ordinary as he drove up to the house, entered through the back kitchen door with two gallons of paint and a case of Dos Equis and walked into the living room.

The cheerful shout of "I got beer!" was out of his mouth before he saw his brother lying dead in a pile of body parts and blood.

"Shit," he said flatly. "I'm gonna have to call Mom and Dad."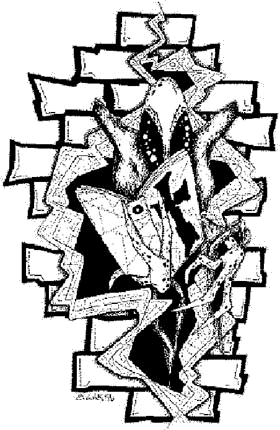 art by GAK
Head back out onto the river
Go directly to The Big Q
---
When you've completed the mission, you may return and file your report.
You can also head off to the Lies page
or the A&A base page.