My, my, it's been a while since anyone from the Company has wandered through these parts. We were wonderin' if anyone knew we were still here. We got this weird little packet about three weeks ago, but you probably want to check out the official business

Fiction:
The Butler Didn't Do It, by Leslie Woolf Hedley
Cold, by Mike Stickel
Heart of Whiteness (The Pitch), by Jon Worley

Now here's the goods I think you were waitin' fer. It's definitely a bit unusual.

Brian did not get to choose a room, since he was the last potential roomie to arrive. As a result, he got put in the basement. While it had a bit of space about it, the smell was one of old baby diapers and dampness. Not to mention the strange writing smeared on the walls.

"Hey man, why does the wall say 'What I'm doing is today, everything I've done is yesterday, everything I've yet to do is tomorrow?'"

"It's probably just something Steve or one of his weirdo friends wrote," Willy replied.

"Uncle Steve wrote like that?"

"You never know what Steve's gonna write. I wouldn't put it past him to say something like that."

"Is that blood? It looks like it's written in blood." Brian was not overly worried about this--it was giving him a feeling of living inside a Marilyn Manson video. Which was just fine.

"Maybe. Who cares? Just make up some stupid story to impress the women you bring over. Women love mystery and secrets."

"Yeah, whatever."

Brian looked around the basement, trying to find an outlet.

"This wasn't exactly built during the electrical revolution, was it?" Brian commented and then noticed an outlet near the bottom of a far wall. "There's one," he said and pushed his portable CD player cord into the slots and realized he couldn't let go.

Brian began to shake as the electrical current began to move through his body. Willy noticed Brian's head shaking, ran over, and dove to break the electrical bond. There was then a loud pop and sizzle. Seconds later Brian's eyes turned completely white. There was no movement in his body save a few irregular twitches in his right arm.

Behind Willy came a cackle. It was an evil, care free, wish-you-were-dead cackle. It reminded Willy slightly of his ex-wife, and he turned around to see an undead witch jabbing her bony fingers at him, spitting odd colored mucus and laughing maniacally.

"What have you done to Brian, you mortifying bitch!"

"Your Brian only exists in the world of noise--a horrible place consisting of popping and crackling sound waves," she shrieked. "You will all die in horrible, pointless ways!" The witch began to laugh and choke at the same time--quite a disconcerting sight.

"We've got enough witches in this world," Willy said as he grabbed Brian's Best of the Doors CD set. The witch charged at him, but Willy slammed the first disc into her neck. A warm, black, bubbly fluid sprayed from the wound and covered Willy's arms and shirt as the witch howled in pain. He screamed a mighty battle cry and sliced her in the temple with the other disc. Yellow, pasty clumps of dead matter dribbled down the side of the witch's skull. She fell to the floor and became eerily silent.

Willy leaned down to make sure the witch was dead. Just as his hand touched her clumps of hair, the witch lunged up at him and gurgled, "There is no point to what you are doing!"

He punched the CD in her neck all the way through--separating the head from its body and tumbling it to the far end of the room. The body fell in a heap of rags and bubbling dead flesh.

Willy took a moment to catch his breath, picked up the head, and whispered in the long dead ear, "Don't tell me how to live a pointless life, you bitch." He dropped the head back onto the floor, sighed and went up the basement stairs tell the group.

When Willy's footsteps could no longer be heard, the witch's eyes popped open. "Shoomie, doomie, gloomie, boomie!" the witch's head gurgled happily, spraying a bit more blackish-yellow fluid onto the basement floor.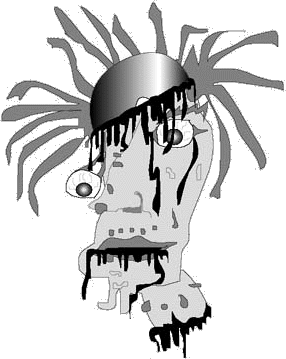 Head back out onto the river
Go directly to Juarez Junction
---
When you've completed the mission, you may return and file your report.
You can also head off to the Lies page
or the A&A base page.