Howdy and hello. I know you're ready to put in on the river, but we've got a few missals from the front you should see before getting on your way.

Reviewage:
Rosey the Killer Baby and Other Stories
Housekeeping, reviewed by Ruth Raymond
The Life and Films of Al Adamson

Awwwright, then. Before you head out onto the river, there's one more bit of information you should know about. This fragmental letter arrived a month or so ago. Perhaps you can make something of it.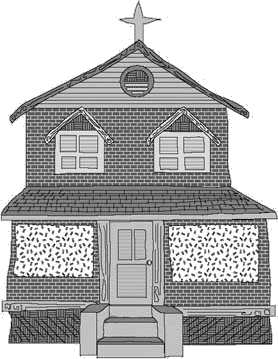 "Can I help you?" Nina asked the tall, clean cut Middle Eastern man who was standing three feet in front of her desk at the offices of Lies Magazine. She guessed he was nearing 50, but maybe as young as 35. The lights in the office sometimes played tricks with the eye. Nina blinked and asked the man once again, "Can I help you?"

This time he answered. "I am Mr. Zimzemenizick -- I'd tell you my first name, but it is hard for Americans to pronounce. I am a lawyer for the man you know as Uncle Steve."

"He's not trying to sue us again, is he?" Nina asked, not too thrilled to be in such a position. Being ten in the morning, none of the other Lies Staff was around. They usually didn't come in until after two.

"No, nothing like that, my pretty pet. The man you know as Uncle Steve was gunned down in Tijuana just three days ago. Seven bullets were recovered from his body, five more in the wall behind where he stood. I suspect death was immediate." Mr. Zimzemenizick seemed to be amused by the defensiveness of the young secretary. "The scandalous bandits--no doubt hit men for one of Uncle Steve's many enemies--even took his beloved bandanna."

Nina, who was used to such outlandish stories when it came to Uncle Steve, took the news in stride. "If you're looking for money, we don't have it. We're barely hanging on as it is. I haven't gotten paid this month, and it's the 28th already." Nina pulled part of her gum out of her mouth--holding one end with her teeth and tongue--and twirled it around out of habit. This kind of thing always happened the night after Mattman held his planning session for the officers of the mag. Frowning slightly, Nina wondered if she had been chewing the same gum during last night's festivities. It tasted a bit like green ash.

"My visit here should be of great joy to the purveyors of Lies Magazine. It seems that Uncle Steve was quite fond of you young people. He has left one of his houses in Albuquerque to the magazine. Plus $50,000 for taxes, renovation and other sundries."

Nina's eyes got large and her mouth opened just a few millimeters. Enough for Mr. Zimzemenizick to notice spit lines between her lips. He smiled and continued.

"I have the keys, the deed and a cashier's check in the amount of $50,000. All I need is a signature of receipt." Mr. Zimzemenizick held out a pen and paper to Nina, who was beyond words. She jerked her hand towards the pen and paper, scribbled her name across one of the lines at the bottom of the page and handed it back to the dark man.

"I had no idea Uncle Steve had any money at all. I thought he was as broke as the tricycle I got for my third birthday."

"The man you knew as Uncle Steve had many secrets, many of which he took to his grave. You should count yourself lucky to have known such a man." Mr. Zimzemenizick then placed a brown envelope on the desk, revealed impossibly straight teeth in what could have been called a smile, and left the office. It took Nina about five minutes to calm down and call Mattman and Aaron.

Head out onto the river
Go directly to Port Del Rio
---
When you've completed the mission, you may return and file your report.
You can also head off to the Lies page
or the A&A base page.