11/26/18:
Con brio
Six beefy tracks of Afro-Colombian funk by way of Austin. This quartet takes some greasy Afro-beat rhythms, throws in a healthy dose of cumbia and then mixes in the flavors of its hometown. The results are explosive.
---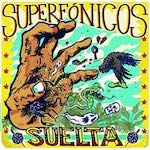 Superfonicos
Suelta EP
(self-released)

---
So, yes, there's plenty of psychedelia and blistering electric guitar work in general. The funk is thick, and the lyrics are in Spanish. Many tracks here veer heavily into mid-70s fusion. Y'know, like if Carlos Santana wandered into a Miles Davis session.

The feel is loose and breezy. These tracks general run five minutes or more, but they pass by in an instant. The insistent rumble is utterly addictive. The party starts as soon as this set hits the speakers.

Austin has been a music center for decades. I think it might be approaching critical mass. It's not just the quantity of bands and releases; the breadth of the sounds is mind-bending. Superfonicos are one of the finest I've heard from the scene, and that's saying something. More, please.