3/22/18:
Back in the saddle
I know David Klotz as the driving force behind Fonda, one of my favorite L.A. pop bands of recent history. Alas, Klotz and his wife split, and Fonda ended. He found a new collaborator and put out some songs as People and Stars, but I guess that didn't last. Now he's hooked up with fellow L.A. survivor Erica Elektra and cranked out a full album as Dream System 8.
---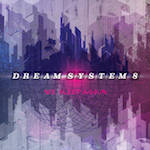 Dream System 8
We Sleep Again
(Minty Fresh)

---
You may know Klotz as the musical editor of GoT and "Stranger Things." And while Klotz's music has always had an 80s tinge, his experience with "Stranger Things" seems to have led him to go whole hog. "Period" instruments (Roland, Korg and Yamaha keyboards, and other goodies like the LinnDrum LM-2 which will be instantly recognizable to anyone over the age of 40) and a much fuller dive into the chilly, yet lush, musicscapes of yesteryear have created something that is quite distinct from previous Klotz efforts.

What's not different is the presence of sumptuous female vocals, this time provided by Elektra. And lest you think she's just a hired gun, Elektra took a strong hand in the songwriting as well. These songs are introspective from a slightly different angle than what I've heard from Klotz before. I assume Elektra wrote/pushed/etc. the songs in that direction. However that happened, the results are impressive.

I hope this effort lasts for a while. Elektra and Klotz have an obvious musical chemistry, and they're both adept enough to continue an evolution of their sound. It's always nice to hear from old friends. It's even better when they arrive bearing gifts such as this.