2/1/18:
Fully encapsulated
Eight songs that trip by far too quickly. Morales starts with acoustic noodling, but by the time he layers in indie rock rhythms and electronic window dressing it can be hard to discern the core.
---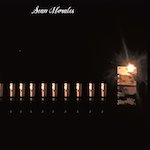 Sean Morales
Call It In
(Super Secret)

---
Well, that banjo pops up now and again. Hard to really disguise a well-plucked five-string. No matter how much he adds to the stew, though, these songs never really approach even a tepid volume. They burble, flit and spill over on top of each other. Even when cranked to eleven during a particularly electric guitar-heavy song, this album feels quiet.

But that's just the volume. Morales folds in so many musical ideas that it is tempting to ignore the way he uses spare lyrics to fill out his palette. That's a mistake. The best way to approach these songs is to think of them as fused poetry--music and vocals contributing to the poetic whole. I know, that's what a song is supposed to be. But Morales succeeds more than most, even if (or perhaps simply because) his poems are more prose than structured.

And yes, he's one of those Austin types. That might help you get your brain around this. Or maybe not. The eight songs here finish far too quickly (the entire album clocks in at well under thirty minutes), but that makes it easier to get in more listens. And believe me, this one will reward the person who gives it a hundred spins or so. Brain-tingling, to be sure.