1/22/18:
Old-fashioned modernity
John Athayde is more than capable of creating his own electronic universes, but he's comfortable and confident enough to bring in some friends to help flesh out his sound. This set of songs was recorded at the same time as his upcoming Permanent Daylight, and as such it provides five great reasons for heightened anticipation.
---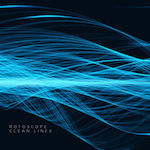 Rotoscope
Clean Lines EP
(Bazooka Machine)

---
Much more grounded in rock than most current electronic artists, Athayde's pseudonym is almost perfect. He uses electronics to recreate mid-tempo 80s rock burners. The muscular hooks on these anthems pummel themselves into the brain. There are plenty of subtle moments, but not when it comes to the ear worms.

This straightforward approach is refreshingly bracing, and if Permanent Daylight holds anywhere near the energy and intensity of this five-song set, something spectacular is on the horizon.