1/18/18:
Northern pop from oil country
Betwixt the twee of the Shins and the muscular avant-pop of fellow Canadians Arcade Fire and New Pornographers, the Wet Secrets blast out impossibly catchy songs that have the cutest little noodly hooks. I guess the long Edmonton winters are good for something past backyard hockey rinks.
---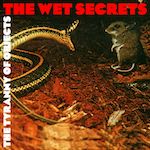 The Wet Secrets
The Tyranny of Objects
(Six Shooter)

---
I'd forgive any listener who thought this sounded familiar. It does, though not necessarily dressed up in these clothes. And I will make this one exception: If you think you've heard a tighter, catchier set in recent times, I think you might be mistaken.

Rather than stick to trippy arrangements or full-on power, the Wet Secrets delve into the slinkier, kinkier sounds of pop. So mixing disco beats with stoner rock riffage makes perfect sense in that context. Actually, pretty much anything this band does on this album makes sense, which is just another example of greatness.

Quite the eye-opener. The Wet Secrets have been making these eclectic albums for some time; I feel the need for some research. My guess is that most folks hearing this for the first time will feel the same way. Don't fear the awesomeness.