12/11/17:
Punk down under power
So if Bob Mould quit Husker Du and took a job fronting the Cult (never mind the myriad of problems that poses), you're in the ballpark. This Australian sounds well-versed in the buzzsaw rock of the late 80s, and he takes that mantle and mashes the pedal.
---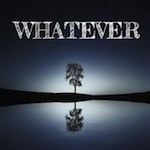 Ivan Beecroft
Whatever
(self-released)

---
Okay, so this is no Land Speed Record. Think more Sugar, really, with a heavier guitar attack. Beecroft tends to subscribe to the "more is more" theory of songwriting, so there's usually an additionally guitar lick jammed in. I'm good with that.

I've read a lot of Australian press, and it is astonishingly adulatory, almost past the point of pedantry, really. This is a very good album, and it's quite possible that it will stand up to a multitude of listens. But it's not the second coming of anything. And Beecroft's writing isn't without a hiccup here and there. "She Said" is a midtempo rocker plunked down in the middle of this set, and while it's nice enough, it just doesn't fit.

But I get the need to vary the approach. Full steam straight ahead works until the engine breaks down. It's much better to give ears a break now and again. Beecroft isn't interested in breaking the mold. He's just trying to adjust it to suit his needs. And the results are stirring.