11/9/17:
[insert female reference here] power
Roaming through India Ramey's various press releases and interviews, she confesses a love Neko Case and other modern alt-country icons. But most of her cultural references seem to date from the late 60s (well before she was born, I believe). And that's most appropriate. Because while Ramey has a bit of that easy-going americana sway, she's much more of a take-no-prisoners songwriter in the Loretta Lynn mode.
---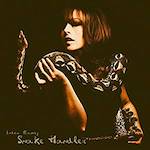 India Ramey
Snake Handler
(self-released)

---
Well, there's also the one interview where she gives Pat Benatar as her musical hero, because Benatar dominated music when it was even more male-centric. And like Benatar and Lynn (this is a connection I'm thankful Ramey made for me), Ramey's songs are stories of women who overcome the odds (including a patriarchal society) and scrape their way forward.

Ramey is clear-eyed. These aren't anthems of success. They are ballads of survival. Tales of women who persist. Songs of strength found and strength lived. The music is more 70s than 00s, and Ramey's clear, sinewy voice is much more Emmylou than Loretta. Which makes it even more interesting that this is Ramey's first album recorded in Nashville. It's about as far from where the "industry" is today as anything that could be reasonably called "country."

Whatever. Ramey's writing is superb, and she has learned how to record those songs to put them in their best light. This one will ring in my ears for quite a while.