11/2/17:
The full story from Rochester
At last! Here is a full-length from my favorite 80s band from my hometown. Well, the Heroic Enthusiasts do incorporate a lot more than Echo and the Bunnymen-style 80s Britpop, and I left Rochester, N.Y., well before I could walk. Nonetheless, that first statement is true, up to a point.
---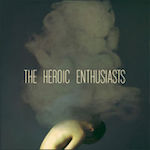 The Heroic Enthusiasts
The Heroic Enthusiasts
(self-released)

---
True, but irrelevant, of course. What's important is the quality of the lush, melodic pop-rock created by these folks. The first two EPs were spectacular, and this set improves on them. "Summer Serenade" is included from The Second Three EP, but otherwise this is an entirely new enterprise.

Back in the day, this level of output was the norm. But I can't name a single act that has put out so many good songs in the course of 18 months. I'd chide the band for its profligacy, but I think it is always best to strike when the songs are coursing. And these flow like a mighty stream.

I think all of us romanticize the musical styles of our youth, but as I hear my sons singing along to Led Zeppelin, Green Day and Public Enemy, I think that some sounds are more timeless than others. The atmospheric, keyboard-driven pop that originated in the U.K. changed its stripes many times, and it grew to encompass such disparate acts as Joy Division/New Order, Bauhaus/Love and Rockets, the Cure, Buzzcocks, the Fall, the aforementioned Bunnymen--and it was a direct precursor to such 90s successes as Blur, Oasis and My Bloody Valentine. This is a diverse sound that allows for experimentation and wandering. The Heroic Enthusiasts take full advantage of this palette, even verging on the sonic deconstruction of MBV at times. But the songs pull back deftly at the exact right moment, and what is left are ringing hooks and a full-throated ache.

Ah yes, the melancholy. Perhaps the defining element of this sound. The Heroic Enthusiasts don't shy away from that feel, but the darker the sound gets the better I feel. It's kinda like the blues that way.

I don't know what the market is for this sort of geezer rock (and yes, the members of the Heroic Enthusiasts are folks I might have gone to school with had I stayed in upstate New York), but I like to think that quality music will find a way. I'm naive and overly optimistic, but what the hell. Stuff like this inspires even an old misanthrope like me to flights of fancy. And that's about the best thing I can say about any album.