10/22/17:
More of the new good old stuff
Brighton 64 was considered a "mod" band in the 80s, playing 60s-style pop rock and infusing it with something, well, modern. After taking a couple decades off, the boys put out a new album in 2012 and followed up with another in 2015. This album officially makes the band's "comeback" period more fertile (in a recording sense, anyway) than its original incarnation.
---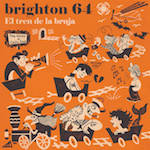 Brighton 64
El Tren de la Bruja
(BCore)

---
So while the press photos feature guys who are definitely not kids, the music remains just as energetic and urgent as ever. The 60s feel is still there, but more influences are creeping in. Or, perhaps, the boys are incorporating more elements from the 60s than before, as there are definite nods to the ringing country rock of the Byrds and musical complexity of the Dead.

But don't take that too far. This is band that has a song titled "El Poster de Samantha Fox" on this album (it translates exactly as you would imagine, if you are having trouble), and that youthful, um, aspirational feel pervades. The Spanish language is a perfect complement to this sound, and I'll admit that adds to the charm for me. Nothing wrong with that.

A lot like the Blue Hearts of (many) years gone by, Brighton 64 takes an old sound and owns it. The result is a bounding album that sounds neither old nor young. Kinda like the guys themselves. Lovely and energizing.