9/4/17:
Old school power
Yet another signal that Austin is moving into the top tier of underground music havens--it's always been great, but I've heard much more good stuff in the last couple of years than I did in the previous twenty. Some of that is happenstance, but as other indie rock havens price themselves out of the market (Chicago, Chapel Hill, etc.), Austin has stepped in with a solid scene ready to explode.
---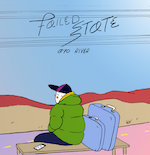 Ayo River
Failed State
(self-released)

---
The members of Plax have travelled through many Austin bands, but this sort of bare-bones, blistering punk isn't a sound that many identify with the area. Think Naked Raygun (well, actually, probably Pegboy, but either version of that band continuum is a fair comparison) with modern production and just the right sheen of fuzz. And boy, do these songs light a fire.

My kids are well-versed in the pop-punk bands that escaped the 90s. But explaining to them the origins of punk has proved difficult. This album is a fine bridge. The songs are written in a basic construction, but they are much more old-school in their execution.

This sucked grabbed me from the beginning and never let go. It occurs to me that a neighbor of mine played in a Naked Raygun cover band in college (you can't make this sort of thing up). I've got to turn him on. Those who appreciate the bad old days will satiate their blood lust here. Fabulous.