8/21/17:
Back today
I'm always interested to hear what gets translated from generation to generation. Sometimes it takes a few tries to get things right. New wave took almost 30 years to get right on the flip side, and I don't think there's a decent grunge band going these days.
---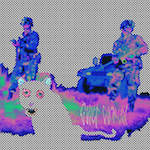 Wieuca
Guilt Complex
(self-released)

---
Wieuca is pushing things. This amalgam of 90s no wave (U.S. Maple, etc.), rhythmic atonal rock (Touch and Go, etc.) and 80s indie rock is probably about 10 years ahead of its time. Are you ready for the Minutemen playing Husker Du produced by Albini? Or, in another mood, the Replacements playing early Soul Asylum produced by a four-track?

No, because it's awfully hairy. But while these boys are from Athens (the one in Georgia), they do sound a lot like the more anthemic (and less tuneful) stuff that some of those great Minneapolis bands created.

Come to think of it, that was more than 30 years ago. So maybe my math isn't as bad as I thought. Maybe Wieuca is right on time. Not sure that matters, though. The loopy, disjointed glory of this album is its own calling card. Not for the faint of heart. Hang on, though, and the ride will reward in the end.