8/3/17:
Hold the wheelchair!
There are very few bands that can claim a 40-year history. The Suburbs formed in 1977, and while they called it quits in the late 80s, they've spent the better part of this decade rounding back into form. This is the band's second "comeback" album (after 2013's Si Savauge), and I think it is safe to say this is the band's most complete effort.
---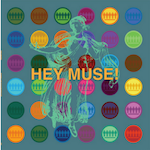 The Suburbs
Hey Muse!
(self-released)

---
Much like latter-day New Order (another one of those 40+ years bands--if you count Joy Division), the melodies are darker, the guitars have more shading and the vocals hold more gravitas. This is still pop music, but definitely pop music for adults. I'm not complaining; I've been an adult for a long damn time, myself. There are times I prefer a wink and a nod to full-frontal exposition.

The Suburbs don't shy away from anything, but the band's characteristic slyness has infected its music as well as the lyrics. And about that music. The production on this album is spot-on. Clean and lush, with plenty of room for horns, backup singers and the usual new wave sonic attack. Some things do get better with age. The trick for bands is keeping the energy from flagging within the modern production sound. The Suburbs have no need to worry. This set remains kicky from start to finish.

I don't think I've heard a more engaging pop album this year. The title track kicks off the set, and it's a fine introduction that leaves room for the wonderment that follows. Indeed, I found myself getting happier and happier as the album rolled on. If there is any filler here, I did not hear it. The Suburbs have spent a few decades working toward making an album like this. Not-quite geriatric exuberance is just as exciting as the youthful kind, especially for those of us who will be receiving that AARP envelope in the mail any day now. Simply sublime.