6/22/17:
D.C. grit
So if I threw this album on the record player and said, "This is one of my favorite old-school D.C. punk bands," you would readily agree. Walk the Plank plies the waters of that fertile scene that was waxing three decades ago. Buzzsaw guitars slashing over a brutal rhythm attack, topped off by wonderfully throaty vocals. About ten seconds of this and you'll be looking for a pit to crash.
---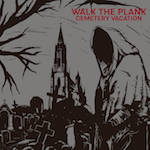 Walk the Plank
Cemetery Vacation
(Say-10)

---
Well, I was, anyway. I suppose one complaint is that this is so D.C. circa 1985 (or so) that it can be hard to find a unique band identity. When the intellectual exercise of listening breaks down to "Does this song sound more like Minor Threat or Fugazi?" (usually the former), I suppose there's some truth to that thought.

On the other hand, this kicks ass like nothing I've heard in ages. Straightforward hardcore with just a smidgen of melody. And a Black Flag chaser? Yes, please.

Like I said, if you have any sort of affection for early Dischord or the stuff that predated that, Walk the Plank is heroin. Once this stuff enters your veins, you'll never be able to purge it. And I don't think you'll mind one bit. Getting your mind throttled never felt so good.