6/3/17:
A short one
It's been a while. And so, as a teaser for a busy year, Richmond punks (Are 40-somethings really punks? Why not?) Ann Beretta tossed out this 7" for Record Store Day. There's an electric (and much heavier) version of "Forever Family," and a new song.
---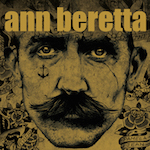 Ann Beretta
S/T 7"
(Say-10)

---
"Kill the Lights" is a great raver that sounds like it could have been kicked out in 1989. Well, the production is more modern and muscular (more Cruz than Lookout, if you get my drift), but the song is right in that vein.

Later this year, the boys have an album of new recordings of old songs. If they're anything like the revamped "Family," that promises to be much better than it sounds. And sometime early next year, there is a promised new new album.

But even without all that, this is a shot of pure joy. If you weren't around to enjoy Ann Beretta the first time, this should give you enough of a taste to know what you missed.