5/11/17:
Shake it, baby, shake it
Any attempt at classification is useless. This nine-piece (at the moment) outfit from Ithaca, N.Y., filters all sorts of influences through a propulsive rhythm section, using horns and keyboards to complete the (not always) pretty picture.
---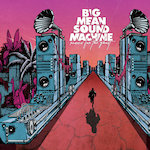 Big Mean Sound Machine
Runnin' for the Ghost
(self-released)

---
There are guitars reminiscent of West Africa and rhythms from Latin America, Africa and beyond. The horns are even more slippery, jetting from an old school big band feel to modern jazz, Afropop or whatever else fits the mood.

From what I read, it seems these folks put on one hell of a live party. I can only imagine. The arrangements here have a supremely energetic feel, and I can hear where the band might take off at a show. These are instrumentals, and I'm completely down with that. Vocals would dull the edges of this fine-tuned beast.

This sort of collective can sometimes allow itself to get too diffuse. That's no problem with these folks. These are tight, joyous excursions into the diverse flow of life. If you aren't shaking your ass after a minute, you need to have your glutes examined.