5/8/17:
Pit nostalgia
More exceptional Spanish post-punk from the BCore crowd. This is Encono's second go around, and I think the band is rounding into form nicely. The sound is straight out 90s. I hear a lot of Jawbox and Edsel, with a bit of GvsB in the insistent drums. In any case, the roots of this sound are well-established.
---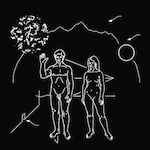 Encono
Centraal
(BCore)

---
And ear candy to a geezer like me who saw all of those bands (and many more) back in their heyday. There are a few modern modifications (the ultra-clean production, for starters), and they work quite well. Anything that intensifies the modest melodies while adding more menace is a plus in my book.

Really, if you were present at the start of emo (this is the original sense of the term, not what outstanding--but stylistically different--bands like Alkaline Trio redefined a few years later), then this will prick up your ears with nostalgia and then send you headlong into the pit. 'Cause Encono does this sound right.

With its own style, too. Encono may have one foot in another decade, but it also understands the world of today. Quite the exhilarating thrill ride.