5/5/17:
Keeping up with the Mather
Last year, Cotton Mather returned from a 15-year recording hiatus with the first installment of an intended 64-song cycle based on the I Ching. I thought Death of the Cool was pretty good stuff, but it didn't take me anywhere. I missed the three-track EP that popped at the end of 2016, but this 11-song set totally makes up for all that.
---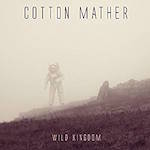 Cotton Mather
Wild Kingdom
(Star Apple Kingdom)

---
There's no particular style that predominates; leader and songwriter Robert Harrison has mixed and matched his influences into a multi-layered stew. I mean, late 80's indie rock is a pretty broad category, and the songs here pull in a lot more than that.

But I like the diversity (and aggression) on this set. Definitely a collection rather than a cohesive album, Wild Kingdom shows off Harrison's songwriting range, but more importantly, the ability of the band to take those songs and turn them into something even greater. The energy and spirit on this album is exceptional.

If you don't remember Cotton Mather from the first time around, I can't help you too much. This album sounds like the bastard child of Joe Jackson and Eleventh Dream Day. With just about everything that implies. Enjoy the individual pieces, and let the whole wash over you to get the full effect.