3/26/17:
Six down, many to go
You can score this for free at Noisetrade.com--and you should. If you do that first, you won't need to read this. Just thought I'd get that out there up front.
---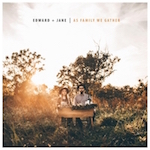 Edward + Jane
As Family We Gather EP
(self-released)

---
Edward + Jane is fronted Timothy Carpenter and Emilie Creutzinger, backed by a fairly sizable band. I imagine the live experience is a bit toned down, but the sound on this debut EP is folk writ large. A lot of people would simply file this under "americana" and be done with it, but that's too simple.

Rather, Carpenter and Creutzinger merge the more formal northeastern folk style (complete with intricate, precisely-sung duets) and a more rough-hewn Appalachian style. The more intimate moments have a northern feel, while the raucous stompers are definitely down from the hollers. The first single, "Blood and Bones", has strong influences from a certain metropolis a few miles northwest of the band's Chattanooga home.

The production is full and lush, even on the more introspective songs. There are no half-measures on this six-song set, which leads to Edward + Jane bursting forth fully formed. I can't wait to hear how Carpenter and Creutzinger develop as songwriters, but they have already established their chops.

Full marks. Like I said, go pick it up today. And leave a tip. It's the decent thing to do.