3/22/17:
Mental dental
The British Cowards, that is, not the French Cowards nor the Canadian Cowards nor . . . I think you get the picture. There are a lot of Cowards bands out there, and this one is probably the least well-known of the bunch. Perhaps this album will change that.
---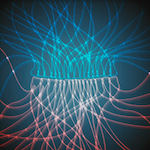 Cowards
Teeth
(self-released)

---
Or maybe not, as it has been kicking around for a few months now. It should get plenty of attention, though. There's some seriously demented rock and roll going on here.

The mix of 80s pop, electronic disturbances and garage sounds certainly bring to mind a certain Mark E. Smith experience, but Cowards sticks to its own brand of looniness. Throwing deconstructed hooks over a slinky groove is just one way these folks show they know their way around commercial demolition.

Not unlike the Fall, Cowards take a while to settle in. This is definitely a band more suited for cult "fame" than widespread appeal. There is simply too much to take in on a single listen, and I didn't rear a single cut that would make sense as a commercial single. I intend that as a compliment, but it's also a sincere observation.

This one improves as it ages. Give it a few spins and see if you can get it out of your ears. Hasn't happened for me yet.