2/6/17:
Saturation
Among other things, Andrew Joslyn is Chris Kattan's younger brother. Also (somewhat more to the point), he is a classically-trained violinist who has worked extensively with Macklemore and scads of other Northwest and L.A.-based artists. He does not sing, but for his debut solo album he has recruited the likes of Mark Lanegan, Will Jordan and Shelby Earl to help him out in the vocal department.
---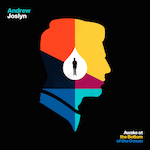 Andrew Joslyn
Awake at the Bottom of the Ocean
(Lux Finite)

---
So, y'know, he's got connections. More than that, though, he's got talent. A serious ear for music. These songs sound like classical reimaginings of Nelson Riddle pop arrangements. Not just strings attached to old-school pop, but a complete internal reworking of the structure. With modern electronic and rock instrumentation built in as well. In other words, a unique sound.

Joslyn isn't going retro, or arty or anything else. This album simply feels like the idiosyncratic expression of an artist in ferment. Despite the wide sweep and grandeur of the album, there is an intimacy and delicate beauty that makes this Joslyn's own.

So, yeah, fans of Adele will nod in recognition at a couple songs. Those who remember grunge will marvel at Joslyn's stringy approach to that sound. And folks who simply like to be transported will find themselves on another planet.

As a guy with far too many connections and previous success to remain anonymous, I expect this album to be something big. Maybe not millions sold, but the sort of album my middle son will be cueing up for some time. All success will be utterly deserved. This set smokes.