1/18/17:
Scandi candi
K-Syran probably best slots as a performer, as she has appeared on stage, on film and on record (or, y'know, on disc--or is that disk?). A Norwegian who appears to call Switzerland home, she delivered this spectacular pop album last year. And she'll be coming to the U.S. in 2017. So hey, let's have a listen, okay?
---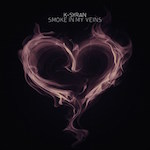 K-Syran
Smoke in My Veins
(Intimacy)

---
Maybe it's the way Norwegians sing in English, but K-Syran's voice reminds me of Annie, another not-quite pop star. But where Annie would fall every-so-slightly on the minimalist side, K-Syran prefers more. More vocals, more keyboards, more insistent rhythms, more soaring hooks. Hey, go with what works for you, right?

I'm always a little concerned that I'm way out of the current mainstream when I take a real shine to an overtly pop album. I have a feeling that my preferences aren't exactly what the kids want. I ran this past my two older boys, and the results were mixed. My second son dabbles in pop more, and he likes it. So maybe I'm not that far off. Or maybe I'm just old.

In any case, this is distinctive pop music. K-Syran isn't interested in blending in. She make sure to stay in your face, never stepping back into anonymity. Perhaps that's why I like this so much.

Pop is not a bad word. It's a perfectly legitimate sort of music, and artists like K-Syran are proof. This album takes flight and never comes down. The perfect antidote for times of gloom and doom.