1/11/17:
Hot plate
I recently reviewed Harvey Mandel's new album, which is a kaleidoscopic look at the blues. Scott Taylor takes a much more single-minded approach, fusing John Lee Hooker-esque licks from Tony Fazio with some fine harp and organ. This is a trip through the southern urban blues, and Taylor is a fine guide.
---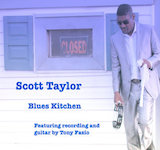 Scott Taylor
Blues Kitchen
(Fetal Records)

---
Or, as one of my friends put it, "That's what the blues are supposed to sound like." In a way, that's true. Taylor sticks to the tried and true, and he howls with the best. This is an album almost overflowing with emotion. Taylor does wrong and is done wrong in equal measure. Life is a series of trials and tribulations. And at the end, the listener is bound to feel a lot better.

Taylor hails from D.C., but his sound is much more Memphis than Maryland. He's careful to throw in plenty of Chicago as well, as the second city was the home of southern blues for decades. Now that it's safe (ish) to move back, the blues have resettled the south. Which just means more marinade for all of us.

Taylor doesn't reinvent anything on this set, but he sure serves up a fine blues platter. Plenty of greens, plenty of pork. If anyone is in need of a soul infusion, this album can cure the most anemic blood. Get down, then get on up.