1/7/17:
In the bushes
A lot of people think that Big Star's best record was the third one (whatever name you want to apply to it). They're extraordinarily misguided, of course, but that fact hasn't stopped thousands of bands to attempt to replicate that album's druggy, personal angst-ridden pop deconstruction. Just about all of them fail.
---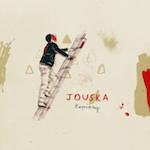 Jouska
topiary
(Tiny Engines)

---
Jouska isn't attempting to replicate anything, and this sound doesn't have the dissolution (drug-induced or otherwise) of the Big Star denouement, but I get a similar feel. The band works its way from a whisper to a scream and then back again in ways that make sense. I've seen a few references to "post-emo" and the like, and I guess that works okay. But Jouska works almost exclusively without hooks, though its sinewy melodies can be utterly gorgeous at times.

Some albums take a bit of time to acclimate, and this is definitely one of them. At times, the songs sound like Tortoise playing Jawbox songs (there are even vibes that drop in), and at other times it sounds like Jawbox playing Tortoise songs. I know, those references go back to before the time when the members of this band were born (I'm just guessing, and I might be off by a few years), but that's what I hear.

Those are good things to hear, in my book. Jouska isn't an instant grabber. But once you're in its clutches, you'll never get away. Mostly because you won't want to try. Entrancing.