9/28/16:
Old school folk
Lisa Redfern is a music lifer. She does about everything she can in order to satisfy her habit. She plays weddings, gives lessons, and once sang in an Andrews Sisters tribute act. She's written church music, children's music, "regular" folk music and a lot more. She's got 11 albums, but this is her first album of originals since 2002.
---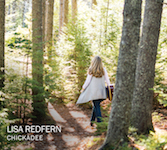 Lisa Redfern
Chickadee
(self-released)
---
Redfern's dad Bob was a part of the whole Pete Seeger scene in the 50s and 60s (she was born while the family lived in Takoma Park, which also happens to be where A&A currently resides), and these songs are firmly aligned in a straight line from that old-school, mannered folk tradition. Redfern sings with a precision that reminds me of Joan Baez, and her songs are cut gems. They're earnest and predictable, but astonishingly charming as well.

When I say predictable, I simply mean that Redfern doesn't deviate much at all from the particular strain of folk tradition that seems to have defined pretty much her entire life. I'm intimately familiar with this sound, and she fits so completely that it's hard to remind myself that so few people write and play music like this these days. Of course, all I have to do is head over to the annual Takoma Park Folk Festival, and I can hear dozens of folks who will attempt to put the lie to that statement.

Redfern uses metaphor nicely, and on songs like "My New Bottom Line" (which includes phrases like "You've gotta make peace with your cheeks") she shows a welcome silly sense of humor. Despite the ultra-crafted nature of these songs, she doesn't take herself too seriously. Ultimately, those small cracks show the humanity of her songs.

This is not for everyone. It is old-fashioned Yankee acoustic folk music. There's not a lot of Appalachia or the South here (except for a bit of banjo now and again), and there's pretty much no Western anything. That's okay by me. Redfern has had a few decades to figure out who she is, and this album is a solid statement. Upright, upstanding and uplifting.