9/19/16:
Old and new, in short
My current favorite band from the city of my birth (Rochester, N.Y., which I left well before I could walk), the Heroic Enthusiasts, are back with another three-song effort. The title is both stylish and apt, which also describes the band.
---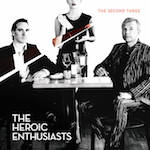 The Heroic Enthusiasts
The Second Three EP
(self-released)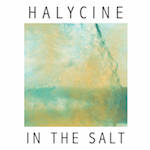 Halycine
In the Salt EP
(self-released)
---
When people think of 80s music, they are thinking of another band from Liverpool, Echo and the Bunnymen. Even if very few of them could name a single Bunnymen song (and if they can, it's probably "Bring on the Dancing Horses," which is best-known in America as part of the still-legendary Pretty in Pink soundtrack).

The Heroic Enthusiasts incorporate the Bunnymen manner of folding melodies in on themselves while adding just a dash of 90s garage panache. I can honestly say that I love every single song I've heard from this band. It's early yet, but I haven't been this blown away by a band in ages. The Second Three is further confirmation of looming greatness.

Chloe Raynes is Halycine, for all intents and purposes. If I might suggest, don't read her bio. It mentions that she heard a particular Nirvana song (no, not that one) and knew at that moment that she had to be a songwriter. As she's only 21, there are all sorts of things wrong there.

But that's the only wrong thing. Origin story aside, it's entirely possible that Raynes is suffering from some sort of divine inspiration. Her sound is a lot more Alanis than Kurt, but she does sound like a child of the 90s. Her songs are layered, slow-burning anthems that are thankfully short on self-importance. The lead track (and first single) "Circles" is the best thing here, but the other four songs help flesh out Raynes's vision.

I'm curious to hear if she can evolve and bring a few new ideas into her sound. This is a fine first effort. Now the hard work begins.

As for the Heroic Enthusiasts, they seem to relish the work. #2 is even better than #1. That doesn't happen often, but when it does it means a lot. I'm already jonesing for a third helping.