7/14/16:
Folksense
Cello (and violin) combined with off-kilter female vocals immediately brought to mind Rasputina, but the Accidentals are merely eccentric, not twisted. I am a fan of twisted, by the way, so there are no digs in that statement.
---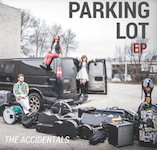 The Accidentals
Parking Lot EP
(self-released)
---
Starting with a basic orchestral folk tendency, the Accidentals move along through a variety of pop and roots ideas. Indeed, "Epitaphs" rolls along like the missing really good Edie Brickell song (missing 'cause there never was one). And then there's the last track, a version of "Parking Lot" that features some harmony rapping from Rick Chyme. It works, even.

The pop sensibility that pervades these songs allows the Accidentals to flow easily from one idea to another. Everything is set within an accessible frame, even if the frame gets stretched from time to time.

While I am not familiar with the Accidentals, apparently the band has been up-and-coming for quite a while. This set could well be notice that the future will be served sooner than later. Fine fare.