6/16/16:
Back down the road
I first reviewed a Jim Lampos album almost 20 years ago. And I haven't heard anything new from him in almost ten. So this is a welcome reacquaintance.
---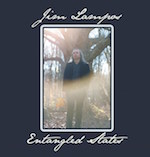 Jim Lampos
Entangled States
(self-released)
---
His voice remains instantly distinctive. Lampos doesn't use his diaphragm nearly as much as other singers, which gives him a slightly wrung-out sound. As he tends to write chamber-folk (perhaps now chamber-americana) songs and sometimes almost talk-sings, this works well. As I said, once you've heard Lampos, you'll never mistake him for anyone else.

The last ten years have been very good for Lampos' songwriting. He's a little more willing to surround his voice with a variety of accompaniments (there's a lot more piano and organ here than I've ever heard before), and he's obviously got a bit more money to spend on production. The result is a fuller sound and songs that feel more fleshed-out. What was once distinctive has become even more compelling.

This is the opposite of easy-going americana, though. Lampos has a flair for the dramatic, and he doesn't write songs for nodding along. He demands full attention, and on this album, these songs deserve every speck.

It's always nice to pick up where we left off, but in this case Lampos has moved miles ahead. I expected good. I got so much more.