6/2/16:
Much more than fine
I was looking up some info on Kool Stuff Katie, and all of a sudden my 14-year-old son asked if I was playing music. Turns out he was listening to Spotify (running on my computer) on his headphones, and the KSK site had started to play some music from It's Fine over his stuff. I told him I'd stop the play from the site, and he told me to shut down Spotify. "I like what you have better," he said.
---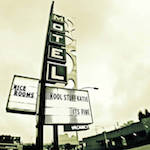 Kool Stuff Katie
It's Fine
(self-released)
---
That would be endorsement enough for me, but I'm already familiar with this Portland outfit. It's the usual stripped-down power-pop garage duo, except a lot better than average. Kool Stuff Katie doesn't do anything fancy, but the songs are infused with an infectious energy that is impossible to miss.

The sound is old-school Cheap Trick, which is a high compliment in my book. Guitar, drums, vocals. Everything in its place, every done with full intent and effort. The hooks are raggedly tight, and the riffs provide a lovely buzz.

At this point, there's no denying that Saren Oliver and Shane Blem not only know what they're doing--they do it better than most. Rock and roll may not be preeminent in the musical landscape these days, but it's far from dead. Kool Stuff Katie is proof that there is plenty of life in the line.

And my son? He's listening to Kool Stuff Katie on the way to school. I'm always gratified to find a reason to have hope for the coming generations.