5/19/16:
Out of many
As the album title implies, Houlahan embraces the wide view of americana. He trips through gothic alt-country, warped Dixieland and a serious side of southern fried on the first three songs, and then he really takes off.
---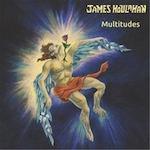 James Houlahan
Multitudes
(self-released)
---
The album title actually comes from Whitman's "Song of Myself," a poem which tried to describe and celebrate America and serves well as a template for the americana sound. Not wanting to be too subtle, Houlahan samples generously from the poem on "The Rogue Song."

If you want a coherent statement, go elsewhere. Houlahan doesn't sit still for a moment, and he's got far too many ideas in his head to write songs that sound alike. I suppose many songs on this set have a dark tone, but even that isn't omnipresent. Houlahan's ruminations can be sunny as well.

So I suppose it's possible to hear this as merely well-crafted takes on the American tradition. Possible, but wrong. Houlahan shifts gears constantly, but his enthusiasm never wavers. Even his more contemplative pieces engage fully. He knows how to sell his songs.

Spring here inside the Beltway has been quite chilly, but it's almost warm enough for bourbon on the back porch. I think I've found my first selection.