5/6/16:
Less is more
The death of physical music transmission has brought about a blinding increase in the number of less-than-album-length releases. This particular week (as I write this) saw seventeen cross my desk. The advantage of a six-song (or three-song, or even one-song) effort is that there's no need for filler. And since digital transmission has eliminated the economic disadvantage of the "short" release, we're seeing a lot more of them. I'm all for that.
---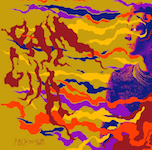 Dam Gila
Face the Sun EP
(self-released)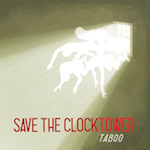 Save the Clocktower
Taboo EP
(self-released)
---
Dam Gila is Adam Gil of YAWN (I'm sure you see how that works. . .). He dials back the psychedelia a bit in favor of some bombastically-produced 70s-flavor glam. The production here is over-the-top, and it fits these raucous, infectious songs perfectly. I have no idea how much these songs changed in the post, but however it worked, it really worked.

This is Gil's second outing as Gila, and it serves to confirm where he wants to take his music. Whatever YAWN might do, there is a real future for Gila. And not unlike his fine 2014 full-length album, this six-song (plus one "interlude") set piles brilliance on brilliance. This is no throwback. Face the Sun remixes some awesome old ideas into a sound for the future. Overwhelming and breathtaking.

Save the Clocktower is another Chicago outfit that uses an old palette to create modern art. In their case, they use 80s synth washes and slap-dash funk to augment an intricate take on laptop pop. The sound on these three songs is the polar opposite of Dam Gila--restraint is the name of the game here. But if you're curious what it might sound like if Steely Dan and New Order were to jam, this would serve as one possibility.

The band's tendency to find one soaring hook steps out of that world, but it works for me. There's nothing wrong with a little craft and focus. Save the Clocktower is supremely mannered, and it serves these songs up with real style.

As I listened to these sets back-to-back (and then back-to-back again), I was struck by how complimentary they are. The sounds aren't the same at all, but they do rhyme in a most pleasing way.