5/3/16:
Slashingly good
Thirty years ago, I heard the debut album from a Sacramento band that really changed the way I listened to music. Tesla's Mechanical Resonance remains a touchstone for me, a reminder of how just a few tweaks can turn a tired sound into something revolutionary. And yeah, two years of touring with Def Leppard turned Tesla into something like Lepp Lite, but that first album is still amazing.
---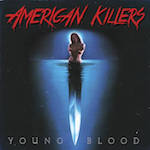 American Killers
Young Blood
(self-released)
---
The cover of American Killers debut EP comes from the 1983 movie Sweet Sixteen, and the dating is correct. This Sacramento trio borrows from almost every era of loud music up to the grunge era. The lead single, "Big City," utilizes a sinewy, "Stranglehold" lead riff to drive the sound. "Starlight Nation" sounds like something omitted from Warrior Soul's second album. "There Will Be Blood" sounds like Zeke playing Iron Maiden. "Napalm" is a flat-out fuzz bomb, kinda what it might have sounded like if Kepone played Black Sabbath. And "Maximum Overdrive" is just that, a pile-driving journey to the end of the set.

The most interesting thing about American Killers is how the boys manage to stir up a bunch of antique sounds and make them sound modern. There's nothing here that I couldn't have heard 25 years ago, and yet I still can't keep my heart from leaping out of my chest. Intellectually, I understand that this is something of a dead end. But I just can't resist the adrenaline.

Can they make an album that lives up to this? Will American Killers evolve into something more conventional (at least in the modern sense)? Those are questions for another day. Right now I'm turning this one up to . . . twelve, at least. Time to go exercise my hair some more.