1/28/16:
Old time punk
Americans might know Chelsea best as the band that spawned Generation X (a.k.a. Billy Idol's platform to fame). The band hit it big in England with the single "Right to Work," which appeared in the movie Jubilee. If any of that rings a bell for you, then you're much more of an Anglophile than me.
---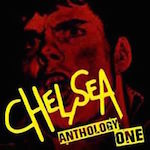 Chelsea
Anthology Vol. 1
(Westworld)
---
After the rest of the band left to form Gen X, singer Gene October recruited more members. Chelsea's line-up kept shifting, with October the only regular member. This set collects Chelsea's first three U.K. albums, Chelsea (1979), Alternative Hits (1980) and Evacuate (1982).

Chelsea must have been pretty flush after the success of "Right to Work," as Chelsea is a clean, crisp well-produced set. Soundwise, it rivals London Calling. The songwriting is more pedestrian, which could be one reason Chelsea never went over the top. And that's okay. This is a working man's punk. Nothing posh here.

Alternative Hits contains a reworked version of "Right to Work" (perhaps rights issues kept it off of Chelsea?), and the album as a whole is much more rough-hewn. Evacuate, which appears to have garnered the greatest critical acclaim of any Chelsea album, goes back to a cleaner sound. And I'll concur; it's the best of the lot here. Each album also contains a number of demos and live cuts that serve as "bonus" tracks. They're not necessary, but they do shade in the edges of the picture.

I really enjoyed last year's album (Saturday Night Sunday Morning), and this set helps to fill in the gaps. Chelsea's greatest attribute might well be the perseverance of Gene October, and that sort of "can do" attitude what has always served punk rock best. There may not be many true gems here, but these albums are solid representations of the British punk scene of the time, and they stand well on their own. Good stuff.

If you're so inclined, there are two more volumes of the Chelsea Anthology--already released in the U.K. and forthcoming in the U.S. They're interesting as academic examinations of the commercialization and musical progression of punk music (October is clearly attentive to trends, though he tends to stick to what he does best), but this first set is the best of the bunch. Punk music may have evolved over the years, but in the end the energy and rawness of punk are what satisfy best. This set has those attributes in spades. Two fingers straight up, for sure.