1/19/16:
Blues from an unexpected source
I had all sorts of bad Leppard puns ready, but that just wouldn't be fair. Phil Collen (guitarist with Def Leppard since the beginning) has put together a blues-rock combo that really cooks.
---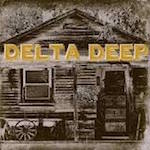 Delta Deep
Delta Deep
(Mailboat)
---
It's not surprising that Delta Deep could rip through Mayall-esque burners, but the real quality shows on more meditative pieces like "Whiskey," which is where vocalist Debbi Blackwell-Cook really gets to show her range. And while the name of the band is a bit misleading--"Chicago Cool" would be more appropriate, considering the heavy reliance on distorted electric lead guitar--the results are solid.

There are a few songs that sound like Def Leppard fronted by a female bluesy belter. "Down in the Delta" features Joe Elliot on backup vocals, and its crunch and drang would have fit in quite nicely on Pyromania. Pal David Coverdale drops by for a song as well, and Collen drops some surprisingly smoky vocals now and again.

This is no Raising Sand, but it doesn't try to be one, either. This is just a collection of folks who like to roam around the blues, even if rock and roll is their main gig. In truth, the music is quite good, but it's Blackwell-Cook's vocals that put this album over the top. Even when the guitars really get into heavy squall, she provides the necessary soulful balance.

An album that is much harder to set aside than I would have imagined. Not merely competent, Collen lays down more than a few inspired blues licks, and the songs come together surprisingly well. This sounds like a working band, and the album works best when things come to a simmer. Delta Deep may have started as a vanity project, but it easily earns its stripes to stand on its own.