1/11/16:
Ear pastry
Every once in a while, this Swede kicks out a new album of American-style Anglo-pop. Which is to say that he sounds a bit like Peter Adams or Smart Brown Handbag, but everything is a bit off. Part of it is his accent, which is so close to being perfect that his rare deviations into a Swedish accent can be startling. All of which is just the beginning of his charm.
---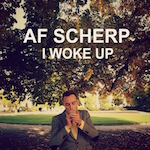 af Scherp
I Woke Up
(TMB)
---
Sherp doesn't just play a mellower version of the whole Beatles/Big Star/Posies continuum. He ventures into folk and americana sounds as well, sounding more than a little like a European Johnny Bertram (or even Hiss Golden Messenger) at times. This introspective streak serves him well, especially when he's channeling his inner Joe Jackson on a song like "Everyone Is Someone." His ability to draw back a step from his songs lends them depth.

The range of this album is impressive, and Sherp certainly knows how to write and craft his songs. He drops an album every three or four years, so he certainly gives himself enough time. But all the time in the world won't fix crap. Sherp's talent is obvious from the first notes; he's just made sure to give his craft time to marinate.

Or something like that. Sometimes these long-gestated efforts can sound stilted, but I Woke Up is brilliantly alive. At times the orchestrations can lend a twee edge to the songs, but that's just another of the elements that charms me.

The funny thing is, I don't think Sherp is out to charm. His music is accessible, but it's also idiosyncratic. He pushes his songs into places most people wouldn't imagine. This is pop, yes, but pop with intent. It just happens to soar brilliantly as it entertains. Often startling, and always impressive. I'm sold.