12/14/15:
Sin par
Grupo Fantasma's Wikipedia page describes this nine-piece outfit as a "Latin funk orchestra." Well, sure, but there's so much more.
---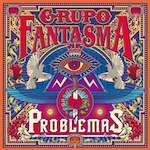 Grupo Fantasma
Problemas
(Blue Corn)
---
And this time they recruited Steve Berlin (longtime Los Lobos/Los Super Seven/etc. producer) to twist the knobs. Because, well, of course.

If somehow you have missed out on the Grupo Fantasma experience, get yourself a listen to "Porque," a stunning cover of the Beatles "Because." The tight harmonies are highly evocative of the original, but the band takes the song into thrilling new territory. Which is pretty much the story with every song (most of which are written by the band) here.

Want some Tito Puente-style horns? A little merengue rhythm? Blistering lead guitar? Stellar vocal work? Sure. How about we throw all that into one song? Grupo Fantasma channels Carlos Santana at his peak, throws in a generous helping of Latin folk and jazz influences, turns up the volume and tightens the screws. There isn't one second of wasted motion on this album. It smokes.

When a band has been tearing things up for as long as these folks, it's hard to make a statement like "this is their best album ever." It might be. Berlin's deft hand certainly makes the sound pop like never before. But the real truth is that Grupo Fantasma has been stellar for ages, and this is just the latest testament. Put this on, and you have an instant party.