11/30/15:
Familiarity breeds admiration
Foucault wanders around the same territory as Steve Earle. He's got the right; he's been doing this almost as long. And he shows no sign of getting lost as he kicks out his tenth album.
---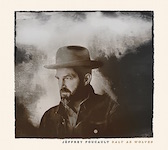 Jeffrey Foucault
Salt As Wolves
(Blueblade)
---
Kicky rockers with a bit of twang, tender waltzes, bluesy ramblings and such abound. Foucault's ability to write great songs (apparently) at will is on display once again.

I'll keep writing, but that about sums it up. I don't know of anyone in these waters who is as prolific and consistently brilliant as Foucault. As befits the sound, this album settles into some dark territory and then stirs things up.

Once this album starts, there's no way to shut it down. It grabs the listener immediately and spins its spell from there. The journey is an exhausting one, but well worth the effort.