10/29/15:
And then some
Jasmine Lorraine Poole (it feels gauche to leave out her middle name, for reasons that might become obvious) decided to open her debut album with a twangy a capella shouter. It's an immediate grabber, leading to the obvious "Is this what the rest of the album sounds like?" question.
---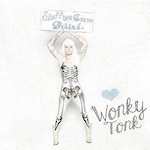 Wonky Tonk
Stuff We Leave Behind
(self-released)
---
The answer is a resounding "No!" In fact, just about every song that follows also begs the same rumination. Poole rambles all over the whole folk/rock/country/americana/etc. universe, rarely hitting the same spot twice. She's astoundingly adept at a wide variety of styles, and she seems content to use her expressive voice as the connective tissue for these songs.

Her adopted moniker fits well. She can be a bit of a lyrical wonk, but she saves her real geekiness for the loving way she weaves so many threads into each song. One could teach a course on the myriad of influences within a single piece.

This is no academic exercise, however. It's a real hoot. Poole isn't afraid to fall deep into wherever a given song is heading, but she's got a sure handle on the arrangement and production of her songs. Her band (which appears on every song but the opener) playing things mostly straight but is always lively. Whenever Poole threatens to lurch, she's pulled back in by the music.

Really a superlative effort. Poole's perspective and musical range are singular, and it sounds like she left everything on this album. A lot of fun, to be sure, but with a depth that resonates with each subsequent listen. Exceptional.