10/1/15:
All over the room
Although this set of songs is immediately arresting, I wasn't quite sure what to make of it at first. Angeline Morand is French-born, (currently) London-based singer who has a very sure touch with her songs. Whether largely a capella or with a wide range of accompaniments, her melodies and rhythms are always tied tightly together. But I felt her multi-tracked vocals sounded a bit gimmicky.
---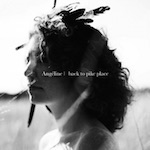 Angeline
Back to Pike Place EP
(self-released)
---
Then I turned up the volume. It's amazing how much that helps sometimes. I was able to hear the subtleties of the melodies and the pieces of the arrangements that fall far back in the mix. The masterful touch in the studio has created songs that are truly alive.

So the result is something that flits between Kate Bush-ish pop, Esperanza Spalding-esque jazz and a few other things. In any case, she owns her sound. It's intriguing, seductive and propulsive.

Whether she sings in French or English, Angeline makes her intentions clear. This is an artist who knows what she wants, and on this EP I think she accomplished all that and more. This is her second EP. Let's hope there's a lot more to come.