8/17/15:
Good thing
Philip Basnight and Colin Cross have the interesting notion that rock music with strong electronic underpinnings can still, um, rock.
---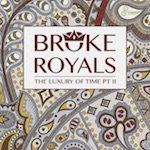 Broke Royals
The Luxury of Time Part II
(self-released)
---
I know, this was proven back in the 80s, and there is a definite resurgence of those ideals wafting about today. What's most interesting about Broke Royals is how far the electronics can really go. Some of these songs have the structure of early Magnetic Fields, but with a much fuller sound. And some of these are flat-out rock monsters.

These two Virginia boys (they met at William and Mary and live a few hours apart--the actual time difference is dependent on the highly-variable I-95 traffic) aren't afraid to let their sound get a bit messy. The melodies are simple and lovely, and the arrangements are solid without seeping into lushness. That would be the rock thing.

More to the point, this has the feel of a electronic/laptop singer-songwriter project (duo notwithstanding). The technology is used in service of the song. And the songs are first rate.

Haven't heard the first EP (yes, I know, there was something of an international interest in one of the songs; I missed it), but I really want to hear it now. I have a feeling that just about anyone who takes in a few bars will feel the same. Quite a revelation.