3/9/15:
Long time comin'
Our culture celebrates the young and talented. They are fresh, beautiful and impulsive--everything us old folks aren't.
---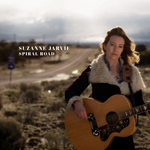 Suzanne Jarvie
Spiral Road
(self-released)
---
This is fine for pop stars and artists who like to make things crash, be they writers, musicians, painters or whatever. Young folks like to challenge the old order and create something new. A very few succeed, and our culture is all the better for that.

But after the crashing generally comes the burning. Folks who appeared transcendental at age 25--quick, name the author of Girl, Interrupted--are unable to translate their gifts into something more stable. P.J. O'Rourke wasn't entirely joking when he titled one of his later collections Age and Guile Beat Youth, Innocence and a Bad Haircut.

Suzanne Jarvie has just released her first album. She's a child of the 60s who nursed a musical interest through four kids and a legal career. When two of her children suffered serious illnesses and injuries, she resurrected her interest in music as a coping mechanism.

The songs on this album delve deeply into the fears and desires that all parents face. We imagine the world for our kids, and when they get even a little sick we can be devastated. Spiral Road is, in part, a reference to an accident Jarvie's then-14-year-old son had falling down a spiral staircase. He went into a long coma before slowly recovering.

But rather than simply writing an autobiography, Jarvie takes her journey and turns it into a beautiful, universal work of art. While her voice might have been brighter or slightly more supple 20 years ago, there's no way a younger Jarvie could have approached the brilliance of this album.

Her voice is reminiscent of Emmylou Harris, though her Canadian accent bleeds through in a most endearing manner. Hugh Christopher Brown produced, and he created a sprawling roots orchestra sound to support Jarvie's voice.

All of the pieces fall together wonderfully. From a strictly musical standpoint, this is one of the loveliest albums I've heard in quite a while. Add in Jarvie's obvious talent with lyrics, and the effect is multiplied. Any success is more than richly deserved.