2/18/15:
Old, new, etc.
Nothing really new here, but some arresting sounds nonetheless. This Danish trio takes stripped-down new wave, throws in a little Marr-ish lead guitar and drowns it in MBV-style distortion. So, you know, two au courant trends for the price of one.
---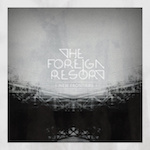 The Foreign Resort
New Frontiers
(Ignition)
---
While it makes perfect sense once hearing, I can't say I've heard anything quite like this. At first, I made a fairly straightforward connection with the Cure--another clear influence--but the production is too dirty to make that work perfectly.

Peppy tunage and dour lyrics make for kind bedfellows. Okay, so that has to be one of the most insipid lines I've ever written, but that doesn't make it untrue. The Foreign Resort has an excellent Smith-ian balance of sweet and sour.

Let's see: the Cure, the Smiths, MBV. . .who else can I throw in here? Jesus and Mary Chain is another obvious reference, and the insistent midtempo beats do recall New Order. What's really remarkable is that the Foreign Resort can take all of these ideas and turn them into something that sounds modern.

So geezers like me can dig it, and kids like my newly-minted teenage son can nod along with smiles as well. This is so much more than a tonic for the generation gap, but I'll always take one when I can find it. Loads of fun.