1/26/15:
Katie in color
Back in the early 70s, Cheap Trick wasn't trying to do anything revolutionary. Rick Nielsen wrote a ton of chock-a-block rockers and a succession of producers added the requisite 70s AOR sheen. Which the band was (mostly) fine with. Yes, In Color was completely misproduced, but I really don't want to hear the Let It Be . . . Naked treatment of that album, either.
---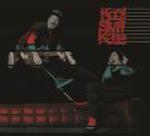 Kool Stuff Katie
Kool Stuff Katie
(self-released)
---
Cheap Trick, in other words, did not come out of the garage band movement. Cheap Trick's roots are much closer to Aerosmith than Nuggets, revisionist history notwithstanding. Just look at the producer of In Color (and two subsequent albums), Tom Werman. Werman's resume includes the 'smith, Nuge, B.O.C., the Crue . . . you get the idea.

Kool Stuff Katie replicates that early Cheap Trick buzzsaw pop-meets-rock sound better than anyone I've heard in ages. Like many modern garage acts, KSK is a duo, with both members playing multiple instruments. But Shane Blem and Saren Oliver make sure to deliver a full band sound with their songs. Blem's fuzzbuzz guitar and Oliver's knack with catchy keyboard riffs really fill out the corners. The multitracked backing vocals are also quite pleasantly 70s.

Yes, this yet another Portland entry in the indie rock sweepstakes. But KSK blazes its own trail, even if that trail is merely uncovering one that was well-traveled a mere 40 years ago. These songs are insistently catchy, and they get better with more volume.

Fun is an underrated facet of music. The set starts with a rush, and Kool Stuff Katie doesn't hit the pause button until the end of the album. One of the more sophisticated and exciting outings of last year.