12/20/14:
Better with age
This is not an album for the kids. When a band's website blares the information that it has played with the Fixx, it's pretty clear that the target demo is folks who aren't ashamed to watch CBS.
---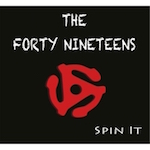 The Forty Nineteens
Spin It
(self-released)
---
Okay, that's going too far. But the Forty Nineteens fuse AOR rock, punk and garage pop the way it was done all the time in the 80s. Remember the Romantics? The less metallic side of Billy Idol? The Forty Nineteens play in-between those margins. They're probably closest to a beefed-up and manic version of Huey Lewis and the News. There's not a side of rock and roll they're afraid to touch, and most of the time three or four strands are braided together within a song.

By the way, kids: That thing on the album cover is an old 45 insert. 45s are what us oldsters used to call seven-inches. You know, because you play them at 45 rpm. I've always felt that CDs should be called 200s for the same reason, but no one else seemed interested in jumping on that bandwagon.

The Forty Nineteens are on no bandwagon at all. This hand-hewn rock is completely out-of-favor today with just about everyone. These boys (I'm speaking euphemistically, as the members of the Forty Nineteens appear to be older than me) are making this music for themselves. Which is just as it should be.

I do think there's a place for this kind of tuneful, raucous music. Time may have passed us by, but adrenaline still needs pumping. Music like this is the perfect tonic. Beats Viagra any day.