9/12/19:
By another name
Augustus Watkins has many guises. Bijou Noir and DEATHDANCE are two of his more recent projects. Tulip Tiger is the latest. I wish I could tell you what makes each one different, but that would sort of be missing the point.
---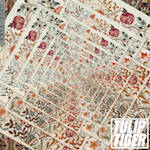 Tulip Tiger
Your Muse Follows Me
(GIVE/TAKE)

---
Watkins doesn't explore the world of electronic music. He uses electronic music to explore the world. The wide variety of sounds and ideas within each project is what distinguishes his work, and Tulip Tiger is no exception.

If the path calls for the ambient, that's where the path goes. If it calls for big beats, or 90s hip-hop or whatever, then the path goes that way. More often, each piece is a confluence of paths, with each addition contributing much more than it could on its own.

There is simply no way to know where this album is going next until the sound rolls out. Endlessly inventive, Watkins has hit gold once again with Tulip Tiger. Join the meld.